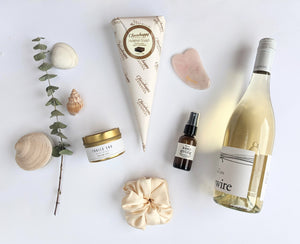 "I have spread my dreams under your feet;
Tread softly because you tread on my dreams." W.B Yeats
Our Lily Gift Box includes
▫️ Chocohappy Hazlenut Caramels
▫️Hollow Tree Travel Candle
▫️Silk Scrunchie
▫️Gua Sha Facial Massage Tool
▫️ Aromatherapy Spray
▫️White wine (optional)
* Please email to add wine to your order and we will contact you with an invoice for the entire gift. No need to purchase through the website.  Please note there is a service fee of $5 for adding wine to your gift. Unfortunately we can not ship alcohol via Canada Post at this time. 
Our gifts come beautifully wrapped with a bow and an art card with your personal message inside. 
**Items are subject to availability. Brands of flavours may change due to availability.