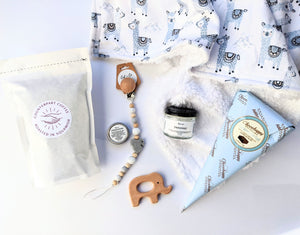 Our 'Oh Baby' Gift Box is the cutest gift any new parent would dream of. Coffee and Chocolate for Mum and Dad and the softest Minky blanket you will ever touch, not to forget all of the cute bits and bobs every baby needs. The perfect package to get this new team set up for success and comfort. 
Our 'Oh Baby' Gift Box includes Counter Part Coffee and your Choice or Chocohappy Caramels, A pacifier clip and wooden teething toy. 'Recover' Bath Salts and 'Over Achiever'  Baby Bum Balm. You also have the choice to include the softest and most luxurious baby blanket made from Minky Fabric. 
**Pacifier Clip is food grade, nontoxic and 100% BPA Free.